Nemati Collection, sale 11 April 2016, Paris
About 115 shawls, Kashmiri and European, will go up for sale in Paris, the large majority of which are the 'garden variety' types. That is to say they are the most frequent types, encountered at flea markets and antique shops. Some body spent a ton of money to produce a glossy catalogue for common Victorian shawls most of which will struggle if not fail to reach even their low estimates. Nevertheless, a few do stand out such as the two 1830 moon shawls one of which appears to possess an attractive green ground color. Whether the photo had been Photoshopped is another question. Five other moon shawls are in the sale as well as a rare prayer niche kani shawl, lot 88, (3.3 x 4.5 feet; est. 5-10,000 euros) which I had published way back in 1986 ( see reprint 2003, p312, CP181). A nicely drawn vase sitting on a chevron edged dish, supports a huge spray of multitudinous flower blossoms. Three large 'ferris wheels' of flower buds form the bottom and one at the pinnacle bespeak of a radial style that became most popular during the second half of the 18th century. A late 18th century date would not be out of line for this piece. Its outer red border, quite mosaic in character, might hint an early 19th century date but one could conceivably understand that this might have been a later addition. Certainly the narrow silk ground hashes have a good age and my guess is that most of the shawl weaving, except for the outer border, was done all on the same loom and in one piece. Naturally without seeing it in person and inspecting the reverse it's impossible to state with certainty that a seam doesn't exist some place.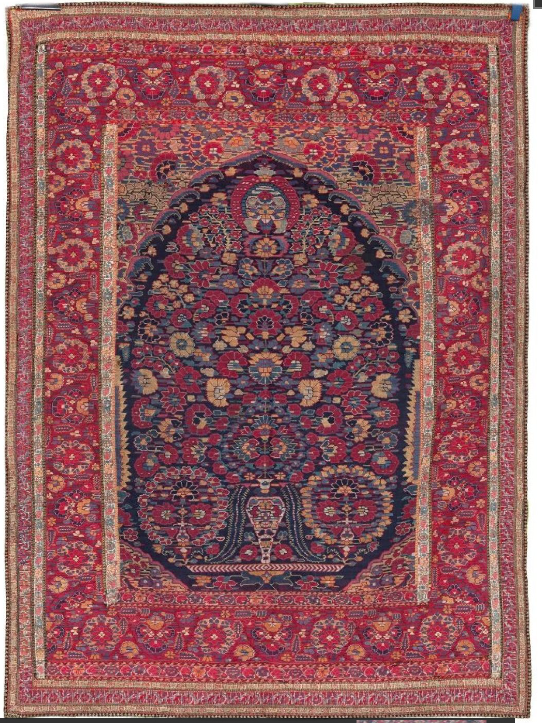 The big problem with these overall reddish prayer mats is that they lack aesthetic appeal, especially ones whose flowers are for the most part geometricized or one could almost say pixelated. However at this low estimate there will be many bids and should provide a much needed boost of adrenaline for the rest of the sale. Three other lots are worth mentioning which will surely bring big money compared to the puny shawls being offered. Mughal patch or waistband end with six imperial style poppy blossom on gold silk ground, lot 126. the Armenian needlepoint from Karabakh whose size was given as 12 x 3.3 feet -obviously a typo for the length, which in my estimate should be approx. 5 feet- has been estimated at between 40 and 60,000 euros. And finally a small but significant 16/17th century Safavid fragment with full length princely figures and their attendants in a garden of flowers, with an estimate 8-10,000 euros.