THE KASHMIRI SHAWL: FROM JAMAVAR TO PAISLEY-A BOOK REVIEW
THE KASHMIRI SHAWL: FROM JAMAVAR TO PAISLEY-A BOOK REVIEW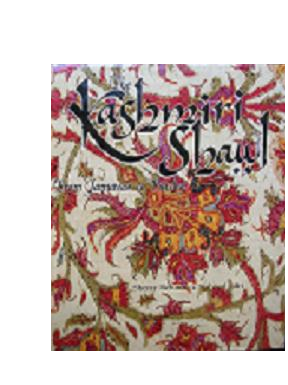 The following book review I wrote for Hali Magazine, May/June edition 2006. This is the unedited version.
The Kashmiri Shawl: From Jamavar to Paisley, by Sherry Rehman and Naheed Jafri. Antique Collectors'Club, UK and Mapin Pub. Ahmedabad, 430 color plates, 378 pages.
Transportable Exotica
The authors, Sherry Rehman and Naheed Jafri state in the preface that their goal in writing this book was a sort of rallying cry against seriously vexed dealers who, in their avidity, continue to confuse European, Srinagar, Punjab, Pakistani and Persian shawls. In correcting these biases, they hope to de-mystify the shawl through a re-told story, filtered through the prism of their natal Pakistani roots. They claim that as a luxury textile, the shawl was more appreciated in the Orient than as a fashion accessory of a trade- driven colonizing West, whose biased accounts of the industry tainted its history.
Thus, arrive two women on a mission attempting to set the record straight, and in doing so, establishing an odd political tension that pits East against West in a fraught intellectual environment. Soon one learns that its not about vexed dealers, but about Western scholarship and the distortion and un-repaired holes in its fabric. Fasten your seat belts!
A weighty tome, rich in color, sumptuously designed, each of the ten chapters debut with a decadent snap of a Karachi personage, reveling in his or her jamawars. While the shahtoosh animals wool has been officially banned since 1975, as that from an endangered species, one is particularly baffled why the authors would want to show a former politician and conservationist wrapped up in a shahtoosh. Another photo with the name Jeejeebhoy is bound to attract an audience!
Copiously researched, the text details the shawl story from beginning to end, touching on many aspects of textile and costume history. The Life and Times of the Kashmiri Shawl covers the importance of the khilat or robe of honor that was often given as recognition for excellence in the service of a royal leader. The idea of court etiquette as expressed through costume and dress accessories glows against a royal backdrop of Mughal Imperial rule. The Other Side of Paradise brings out just that, the poor conditions of the weavers, while the system of kharkanas is explored through the early Muslim influence on Indias craft establishment, from Tughlaq to Zain-ul-Abidins rule. The Maharaja Runjit Singh and his court, and the foreign interlopers who visited it, animate the chapters dialogue, which ends with a late 19th century account of trade routes. The Shawl in Persia highlights the cross-fertilization of artistic ideas between India and Persia, with illustrations of some early Safavid textiles, Qajar paintings, and Persian kani shawls, which nicely enhance the narration of the industry of notably Kerman and Yazd during Qajar rule.
In case youve forgotten the earlier manifesto, The End of Princely Patronage recaps the authors call-to-arms. It seeks to redress a lack in western scholarship to contextualize regional patronage that had engendered an industry whose famous product was stumbled on as another item of transportable exotica. A further shot-over-the-bow makes it clear to the reader he's dealing with authors who are not to be taken lightly. As the authors explicitly forewarn, an intentional political agenda is the crust upon which they chomp. The section ends with a detailed survey covering the politics, patronage, trade and splendor of an Awadh (Lucknow) region that held to the Mughal idiom long after the demise of Delhis Imperial rule. The Punjab Shawl examines Lahore as a strategic entrepot and its links to neighboring cities in the Punjab like Multan; its navigational facilities as a city situated on the Ravi and its importance for shawl and carpet weaving, as recorded by Abul Fazl, author of the Ain-i-Akbari. Shawl weaving activities, are discussed, against the backdrop of the Sikh Court and the French General Allard, with arguments for the types of shawl colors that were most popular. How to identify a Punjab shawl is analyzed. Still confused over dating and types? Three chapters cover all this and Jacquard loom.
The text is unfortunately replete with many nonsensical or erroneous statements, i.e. the tapestry-style was a historic term (p206) and Sikh symbolist shawls devolved from it.(p210). In fact, the tapestry shawl is a clear product of the Sikh period. Moon shawls of 18th century Punjab are predominantly red with a mis-matched design of border and field. (p210) Only about 20 known 18th century ones exist in the world, and they are all from Kashmir, with clearly matching patterns and various colors. They state: thick vines and outlines define a Punjabi shawl. (p210). From a rumor that Amritsars blue and green colors were finer than those of Kashmir, the authors write of the citys famous green and blue shawls (p183) or a shawl where borders encroach on the matan or field becomes a royally commissioned shawl. (p183). A clearly signed Iranian shawl is attributed to Amritsar based on its number of seams. (p200)
In their research, the authors claim to find much myth and apocrypha, yet oddly they announce Chinese and Central Asian sources as primary references, which are notoriously void of meticulous details(p14). The text often labors through a confusion of time frames and events, i.e. speaking about a typical shawl made in Amritsar or earlier Lahore  and then about a more recent rendition,(p206); or ~epochal change on the shawl due to the French in Kashmir; they mistakenly submit that Napoleon~s armies (2 decades before) encountered these changed shawls in Egypt(p184).
As much as the authors strain to make their case for the Punjabi shawls identification, by its loose and rough weave, mediocre colors and a mixture of Kerman wool, the authors, in my estimation, fail to distinguish it sufficiently, from its sister in Iran. Given the authors location, and connections with the upper crust of Pakistans society, one would have hoped to see featured shawls of bona fide provenance. In The Shawl in Persia, illustrations are assigned without positive provenance to various private collections in Pakistan, yet city names of Yazd, Meshad, and Kirman are tossed about glibly so as to make the readers feel as though they had direct access to indigenous Persian collections.
One of the most expensive and sought after shawls is the Dorukha, or reversible shawl with ground color change on one side due to a couching darn stitch. The text falls quite short in its analysis. What is sorely needed is a good macro schematic of the just how this magical darning is affixed. Instead the authors get bogged down in trying to establish new names, and instead of clarifying the embroidered patchy dorukha with finer pieces sans embroidery, decor being solely loomed, confusion arises.
While most books on the Kashmir shawl tend to end the story with the Franco-Prussian war, the authors continue an excellently detailed narration of fashion and costume events leading up to the 20th century. Well written, and delightful to the eye, collectors, dealers, and art historians will find much within to broaden their horizons. Begrudging the West for reducing the shawl to a perishable fashion that it was barbaricized and distorted by orientalists, and then politicizing it,  may be a pungently bizarre way to tell the Kashmir story, but it certainly makes for lively entertainment, suffusing the book's text and beautiful color plates with the aroma of a Punjab curry.